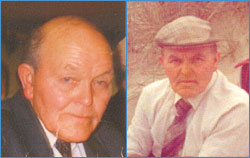 83 year old widower Edward (Eddie) Fitzmaurice had lived and worked in the small town of Bellaghy, Charlestown, Co. Mayo for over 40 years before he was assaulted and left to die by unknown assailants over the 1998 May Bank Holiday. Despite numerous appeals for information, 23 years have now passed but his murder remains unsolved.
Eddie was living alone in an apartment above his drapery shop at the time of his murder. He was described as a quiet but popular member of the Bellaghy community. His wife, Rita, had died a number of years earlier, and 3 of his 4 children were living in Britain.
It is believed Eddie was bound, gagged and assaulted at some point between 8.20pm on Friday, 1st May and Saturday morning, 2nd May. Sadly, his body lay undiscovered until a neighbour gained access to the apartment at 6.45pm on 5th May 1998.
Gardaí believe Eddie was assaulted in an attempt to rob him of £13,000 (about €16500) in life savings. His assailants tied him to a chair and, while attempting to free himself, he fell to the floor where he eventually succumbed to hypothermia.
In 2005, 7 people were arrested in connection with Eddie's murder. Gardaí did not reveal any details about their identities and no charges were ever brought.
This is still an active case and Crimestoppers have offered a reward for information leading to the identification and prosecution of the perpetrators. Anyone with information can contact the Serious Crime Review Team using the below details.
Email: NBCI.SCRT@garda.ie
Garda Confidential Line: 1800 666 111
Crimestoppers: 1800 250 025
Serious Crime Review Team Office: 01 6663444